Apps specifically for DJing with an iPad have already been around for a few years. Algoriddim immediately comes to mind. Yet, there's a need for the standard software programs to be effectively translated into tablet (and smart phone) form, and that's where Serato Remote comes in.
The first official Serato app, everything here looks fairly familiar, down to the colors and features, if you've already been using this DJ software. And if you've been looking for an alternative for your tablet, this app, really, is a must buy.
Keep in mind, first off, that Serato Remote doesn't function on its own; it's essentially a supplement to Serato Live and Serato DJ that lets you take the software around the stage. The technology's pretty simple: Just plug and play, as is the case with all Serato products, and make sure you have a USB, wireless, or ad hoc connection, and now you have a bit of freedom to move around – but don't go too far (more on that shortly).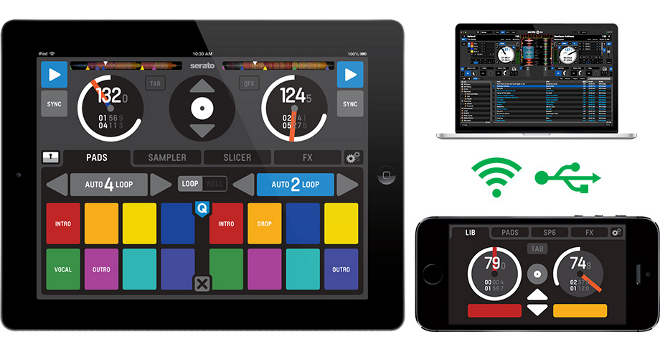 Basically, what you get is control of Serato's features without having to rely on the laptop. On a general level, Remote allows you to navigate the library and deck controls, so you can move between crates and songs. But be aware that the app doesn't display the song titles on the screen; you'll have to be looking at the laptop for that.
For features, Quantize mode allows you to set and trigger cue points. The setting provides all the information you need for accurate placement and triggering, and with just a swipe or touch of a button, you can add, trigger, or remove.
As well, Quantize gives you the slicer, with options for controlling and adjusting the amount and length directly from the panel. The straightforward interface allows you to move effortlessly between the slicer and loop modes.
You'll additionally find pads for cues and loops within the interface. Control these from the Virtual Deck, the View, and Extended View.
The app, too, gives you access to the same iZoTope-powered FX, all with adjustable beats and modes. With these, Latch and Temp modes serve as your controls: Use the former to adjust depth, and the latter offers single-finger usage for making changes. QFX further lets you trigger FX from any panel, while Roll mode allows you to loop rolls and FX one at a time.
The SP6 sampler, another Serato staple, is present here. You get the same four banks with six slots each. With the app, you can access them through the Virtual Deck or Extended mode to adjust individually or with the Master Sampler Volume. Each slot provides trigger, hold, on/off, and playback options.
In terms of usage, the app gives you a choice of two view modes, one with track information and another, the standard Virtual Deck. For those already used to Serato, the latter displays whatever's on your laptop. Additionally, Extended View serves as the "shift" function, opening up additional features and allowing you access to manual loops and samples.
What makes Serato easy to use translates to the app. Visually, the colors add a clear distinctiveness, while the developers designed it with large trigger buttons. Usage wise, you mostly move between tabs, press, and swipe. For standard functions, it's easy to edit and access the FX list and assign cues.
And along with the standards, Serato added play and pause controls and one-touch Sync usage to the Remote 1.2 version.
But rather than just be a lesser version of a proper tool, it's fairly clear Serato's team built Remote with the professional in mind. The intuitive design is easy to adapt to and considers most club and show situations, in which you want to move around yet still have control. And, too, if you find yourself restricted by controller usage, incorporating the app seems to expand the features.
However, even with wireless, remind yourself not to go too far. Just so you're aware, the app doesn't come with mixing control. You'll have to get back behind the deck to make changes.
If you find you already try to use Serato with an iPad, it's an absolute must to upgrade to Serato Remote. And if you're considering moving, figuratively, beyond the controller, Remote is the way to go.